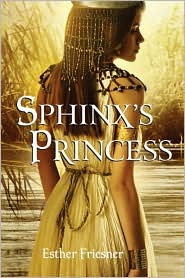 GENRE
Y.A. Historical Fiction (365 pgs.)
SYNOPSIS
Although Nefertiti is the dutiful daughter of a commoner, her inquisitive mind often gets her into situations that are far from ordinary, like recieving secret lessons from a scribe. And her striking beauty garners attention that she'd just as soon avoid, especially when it comes to her aunt, the manipulative Queen Tiye, who has set her sights on Nefertiti. The queen wants to use her niece as a pawn in her quest for power, and Nefertiti must leave her beloved family and enter a life filled with courtly intrigue and danger. But her spirit and mind will not rest as she continues to challenge herself and the boundaries of ancient Egyptian society. With control of a kingdom at stake and threats at every turn, Nefertiti is forced to make choices and stand up for her beliefs in ways she never imagined.
MY REVIEW
Esther Friesner has slowly but surely become one of my favorite YA Historical Fiction authors. And once again, she delivers the goods in this story of yet another famous female historical figure.
I was really enchanted by Nefertiti's character in this novel. She's not just another cookie-cutter YA Historical Fiction female protagonist... she has flaws, which make her extremely believeable and likeable as a person. Esther Friesner gives a soul, a voice to the famous historical name, and I love how she does that. Now, when I read another boring passage about Nefertiti in a history book, I can think of Esther Friesner's Nefertiti, and a whole new person comes to life on the pages in front of me.
Ms. Friesner also succeeds in writing a killer plot! Wow! There are twists and turns, lots of court intrigue, and deceptions that literally had my jaw dropping. I really enjoyed having an exciting plot... I mean come on, what reader doesn't?
All of Friesner's characters are extremely well-written, as usual. She gives a unique voice to each of them. From Nefertiti's manipulative Aunt Tiye, to the deceitful Prince Thutmose, to the kind and loving Amenophis, each character has a voice, and an important role to play in the story. Esther Friesner does not cut corners here.
But the one thing I love most about Esther Friesner's writing is the historical accuracy. My goodness, it doesn't get any better than this. By far one of the best novels I've read from a historical stand point. The settings are lush and beautiful. I am in ancient Egypt. Esther Friesner also does a great job at helping the reader to understand the complicated Ancient Egyptian religious system. I actually didn't fully understand it up until I read this book. But wow, the descriptions and history are spot on.
Ancient Egypt has always fascinated me from when I was a small child. This is the ultimate historical fiction novel for Ancient Egypt lovers. The history is truly amazing. Once again, Esther Friesner delivers a powerful historical fiction novel jamp packed with a great female protagonist, believeable characters, dramatic plot twists, and amazing setting. A truly great read!
MY RATING
4.5****/*