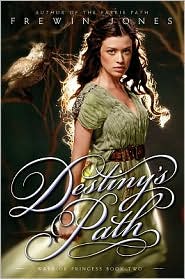 GENRE
Y.A. Fantasy / Historical Fiction (329 pgs.)
SYNOPSIS
Branwen refuses to take orders from anyone--even the Shining Ones, the ancient gods whose power is feared throughout the land. They want her as their Chosen One, destined to save her country from the Saxons. But Branwen doubts she's ready to be a true leader.
Then a messenger from the skies shows her a vision of a bleak and violent future--a future in which Branwen has abandoned her destiny, and those most dear to her suffer unspeakable horrors. There's a blurry line between good and evil, and those Branwen trusts the most are capable of the greatest betrayal. The Shining Ones have spoken. Will Branwen answer their call?
MY REVIEW
Branwen ap Griffith is my kinda gal, first of all. Princess of Cyffin Tir, descendant from Lady Alis, a fierce warrior queen, Branwen fights with no mercy, and as well as any man.
I really enjoy this series (this is book #2 in the series) because of the history. The novel takes place near the time of King Arthur's reign (one of my favorite eras), most probably shortly after. I really like how Frewin Jones incorporates EVERYTHING that was appropriate to the period. She does her reasearch, and it shows.
Although I have to say that the only thing that doesn't really excite me in this book are the characters, Branwen being the exception. Rhodri, a runaway Saxon that Branwen has befriended, just kind of simpers around in this installment, and I miss his wit and charm that was introduced in the first book. Iwan ap Madoc, Prince of Gwylan Canu (and another friend of Branwen's) also had such a great dry humor in the first book, but he also kinda lost that in this book, unfortunately.
Now onto the imagery... really, really vivid. And I mean REALLY. If you decide to read this book, just wait till you get to the battle scenes. Wow. Really, REALLY gruesome. Jones writes every single little detail... Those battles are just so... real. Enough to have nightmares afterward. Don't know if that's a good or bad thing, but again, that's probably how those battles really went down in history. Crude, bloody, violent affairs. Props to Ms. Jones on the imagery.
All in all, an exciting read. I think maybe Branwen is too stubborn for her own good sometimes, but she learns... eventually. You can only get away with the whole dissing the gods thing for so long. But she is driven by her heart, and I really admire that about her.
MY RATING
4
****
P.S. Look for the third installment in this series, The Emerald Flame, due out October '10.