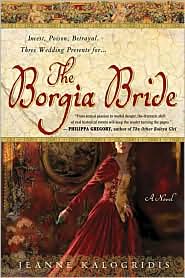 GENRE
Adult Historical Fiction (506 pgs.)
SYNOPSIS
Vivacious Sancha of Aragon arrives in Rome newly wed to a member of the notorious Borgia dynasty. Surrounded by the city's opulence and political corruption, she befriends her glamorous and deceitful sister-in-law, Lucrezia, whose jealousy is as legendary as her beauty. Some say Lucrezia has poisoned her rivals, particularly those to whom her handsome brother, Cesare, has given his heart. So when Sancha falls under Cesare's irresistible spell, she must hide her secret or lose her life. Caught in the Borgias' sinister web, she summons her courage and uses her cunning to outwit them at their own game.
MY REVIEW
After watching Showtime's new series, The Borgias (which I loved), I knew I had to try this book out. For those of you who are Tudor junkies, behold... their Italian counterparts; just as intriguing, just as scandalous.
This period in time, the late 15th to early 16th century, has become one of my favorites as far as history is concerned. I so wish I could have lived during this time period, and yet at the same time, I am really glad I didn't. Life--especially court life--was just so volatile. You had to play the cards you were given perfectly, or else you were dead. Quite literally, dead.
Jeanne Kalogridis did an excellent job of capturing the capriciousness of life in Pope Alexander VI's court. The setting really draws you in, and at the same time, repels you. There's nothing candy-coated about it, and I'm glad Jeanne Kalogridis kept her story true to the time period.
I very much enjoyed Kalogridis' portrayal of Sancha of Aragon. The constant turmoil she faces inside herself was really refreshing, and really human. Just because she was the heroine of our story doesn't mean she was exempt from being sucked into the Borgias' mad world. It was really enthralling to read just how such a life full of intrigue and betrayal can affect a human being, both mentally and physically.
Sancha's relationship with her brother Alfonso was really well-written. It was all the more powerful coming from a world where love and caring came second after power. I really think her love for her brother Alfonso was what kept Sancha alive.
And then there's the Borgias. It just doesn't get more corrupted and evil than that. Incest, murder, conspiracy... it's all there; and it's so interesting to read! Their lives were so twisted and corrupt, but they're so intriguing to read about. I enjoyed Jeanne's assessment of the incestuous relationships between Lucrezia, her brother Cesare, and her father the Pope. It's so sickening, but it makes you wonder... what would drive a person to do something like that?
All in all, this was a really great read. Jeanne Kalogridis' style is easy to read, but doesn't lose any of its power. The story really draws you in and keeps you itching to turn the page. What Phillipa Gregory did to the Tudors, Jeanne Kalogridis is doing to the Borgias, and let me tell you, I can't wait to read more!
MY RATING
4.5****/*
Appropriateness Factors
Definitely some semi-graphic sexual matter in this one folks. With a good bit of incest and rape as well. Take it for what it's worth.