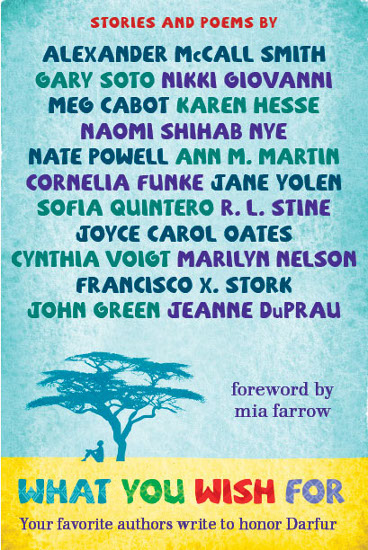 This is a rare opportunity to get a renowned author or literary agent's feedback on your unpublished manuscript!
Pick one of the following stories from Book Wish Foundation's new book,
What You Wish For
, and write an essay of no more than 500 words about how the wishes in the story relate to the Darfuri refugees in eastern Chad. The stories were contributed for free by their authors so we could use the book's proceeds to develop libraries in Darfuri refugee camps. Essays will be judged on style, creativity, understanding of the story, and understanding of the refugees. If you win, either the story's author or the author's literary agent (as indicated below) will provide a one-page critique of the first 50 pages of a middle grade or young adult manuscript of your choosing. You will have six months to submit your manuscript, and the agent or author will have six months from submission to provide the critique.
To Enter:
Essays must be emailed to
contest@bookwish.org
no later than February 1, 2012, either pasted into the body of the email or attached as a Microsoft Word, OpenOffice, or PDF file. Essays must include the name and email address of the entrant. Book Wish Foundation staff will judge the initial round of the contest and recommend finalists to the agents or authors, who will select the winners. Winners will be notified by email and announced on bookwish.org on or about March 1, 2012. Winners' manuscripts must be received by September 1, 2012. Manuscript critiques will be sent to winners within six months of receipt.
Essays may be published on bookwish.org. By submitting an essay, you grant to Book Wish Foundation the right to edit, publish, copy, display, and otherwise use your essay, and to further use your name, likeness, and biographical information in advertising and promotional materials, without further compensation or permission, except where prohibited by law. The preceding applies to the contest essays, not winners' manuscripts. Winners retain all rights to the manuscripts they submit for critique.