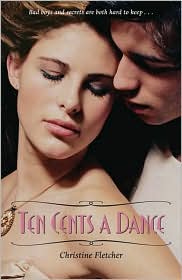 GENRE
Y.A. Historical Fiction (349 pgs.)
SYNOPSIS
When Ruby Jacinski meets bad boy Paulie Suelze at a dance, it's not just their perfect kiss that has Ruby spinning when the night is over. Paulie gives Ruby and idea--one that just might rescue her from dull factory work. Jobs are scarce in 1940s Chicago, but Paulie tells Ruby about a place where she can work as a taxi dancer--a girl paid ten cents a dance to lead lonely men around the floor. It's an intoxicating world of dance halls, fancy dresses, and jazz--and Ruby thinks she's finally found a way out of the tenements. But it's not all romance and glamour, and soon Ruby is in over her head. Her regular patrons want more than just a dance, she's struggling to keep her job a secret from her family, and Paulie has stolen her heart... even though she's still not sure she has his.
MY REVIEW
When I first stumbled upon this book at Borders, I knew I was going to take it home right that minute. Key word: 1940s. I live and breath the 1940s! I love the music, the fashion, the life... basically everything. So just off the bat I have to say kudos to Christine Fletcher for thinking outside the box and writing a Y.A. novel about the 1940s.
Our main character Ruby is more of a diamond in the rough type. She's decent and good on the inside, but the situations she finds herself in and the choices she makes aren't all that great. For example, her boy Paulie is introduced to us as a bad guy. When Paulie shows up, everyone knows who's boss. He's been kicked out of the army and is just a pretty sketchy figure in general. But still, Ruby hangs on to him. Even then she has the nerve to act surprised when SPOILER she finds out that Paulie has shot someone, stole his moeny and his car? END SPOILER Really? I could've seen that coming a mile away. But I guess that's the beauty of being 16 and "in love"... lessons must be learned.
The character I really, REALLY liked was Peggy DeGroot. Even just from Peggy's description:
"She looked about twenty, with the most perfect waves in her reddish brown hair... She had a crooked tooth in front, pushing a little ahead of the others. Freckles and clear hazel eyes.
'Ruby Jacinski.' I shook her hand. 'I love your nails.'
They were long and rounded, painted carmine red with the moons left bare" (38-39).
When I was reading that I thought to myself, "That's me." It was like Christine Fletcher was describing me. Even down to the freckles and the nails! Even that coincidence aside, Peggy is the most admirable character in this novel. She isn't afraid to tell it like it is, and she puts her heart into everything she does.
The history in this book was absolutely fantastic! Christine Fletcher did such an amazing job with researching every little detail about Chicago in the 40s. The only problem is I wish I was there!
The only thing that could've been better about this book was the writing. I felt like I really had to get into Ruby's character in order to sympathize with her. Also, some plot events in the novel seemed too good to be true... it seemed like some stuff that happened in the book wouldn't happen in real life. But I guess that's fiction for you.
All in all, a good read, especially for someone like me who adores the 40s!
MY RATING
4****