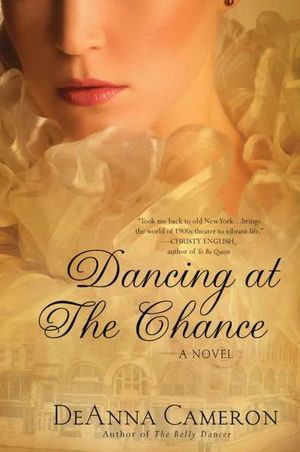 GENRE
Historical Fiction (336 pgs.)
SYNOPSIS
New York City in 1907 is a kingdom of endless possibilities for anyone who dares to dream. The Gilded Age has ended, and immigrants fill the bustling streets. The glamour of Broadway lures those who desire the limelight-but only a few are fortunate enough to thrive in the lights of a city that casts long, dark, and merciless shadows...
Pepper MacClair and her mother arrived penniless in New York thirteen years ago, and their fortune has not changed. A dancer of fluid grace and motion, Pepper is still only one chorus girl among many, struggling for an opportunity to prove herself worthy of something bigger.
For now, Pepper dances at The Chance, a rundown venue long past its prime. It is not only Pepper's workplace, where she has pushed her physical endurance to its limit, but also her home. And as the larger world changes around her and she is pulled into the intrigues of New York's elite, it is her last hope, not only to fulfill her dream, but to fulfill her heart.
MY REVIEW
Author DeAnna Cameron was nice enough to contact me with a review request for her historical fiction novel, Dancing at the Chance, and I was most happy to oblige her. Although this time period in American history is a bit foreign to me, I was thrilled to be introduced to a newer (to me, that is) period of historical fiction.
Pepper MacClair, the protagonist of our story, was very well written. Cameron most definitely succeeded in making her plight entirely relatable to the reader. Every one of Pepper's triumphs and tragedies really resonates with the audience. As a former dancer, I could definitely relate to Pepper's struggle for perfection in the eyes of her Vaudeville audience. She has such a passion for her Vaudeville theater, which really enhances the story and makes it all the more special.
The plot of Dancing at the Chance was also very well done. Cameron utilizes an all-star cast of characters to really build a story that is gripping and completely believable. The plot in and of itself almost mimicked a Vaudeville show... complete with tantalizing entre-acts, sweeping middle acts, and the grandest Vaudeville finale New York in 1907 has ever seen.
The love story in Dancing was really touching and heartfelt. Not to give too much away, but it takes a long while for Pepper to find true love; and when she does, it is really beautiful.
I was surprised at how much the historical setting really enhanced this story! Like I mentioned before, I did not know much about this period, just as a student of history. But DeAnna Cameron's integration of such a tumultuous time in the entertainment industry was fantastic. She clearly presented the struggle traditional Vaudeville actors were facing as the advent of the moving picture came to be. I was really fascinated by the workings of both Vaudeville and the early motion pictures.
All in all, this was a very good read. The brilliant cast of characters, the exciting story line, and the historical setting all made for one heck of a show.
MY RATING