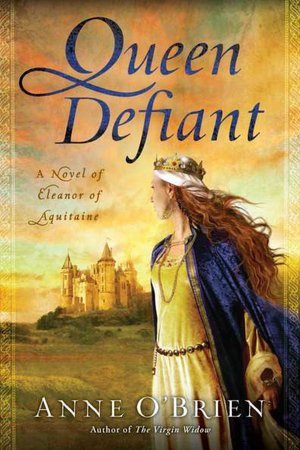 GENRE
Historical Fiction (412 pgs.)
SYNOPSIS
Orphaned at a young age, Eleanor, Duchess of Aquitaine, knows she needs a strong husband to hold on to the vast lands that have made her the most powerful heiress in Western Europe. She welcomes her arraigned marriage to Louis the Sixth, King of France, hopeful of forging an influential partnership with him. But when Louis's fanatical devotion to the Church and weakness of will thwart her wishes--leaving her isolated and powerless--she seeks another way.
In her quest for freedom from Louis, and in search of a man worthy to stand beside her, Eleanor will defy her husband, ally herself with secret lovers, risk her life on an adventurous Crusade, and challenge the Pope himself. And in the end she will meet Henry, Count of Anjou, brilliant, mercurial, and as impatient as she is to build a dynasty. Finally, within sight of passionate fulfillment with Henry, Eleanor will take the biggest gamble of her life--always a courageous queen defiant.
MY REVIEW
Eleanor of Aquitaine, much to my own surprise, had escaped my historical curiosity up until the purchase of this novel. I knew very little about this historical era (the early Middle Ages), but to tell the truth, after reading this novel I feel like I have been reacquainted with a long lost friend.
Let me explain a bit.
Eleanor, as she is presented by Anne O'Brien, feels like an old friend, an old confidante. She comes to life in such a way on the pages that it's like meeting some long lost part of yourself. Her emotions are incredibly real and heart-wrenching, and her dialogue is provoking and powerful. Her passionate narration is truly a window into the real Eleanor of Aquitaine and the woman she was.
This novel focuses mainly on Eleanor's early years, prior to her marriage to Henry II and her rise in becoming Queen of England. To tell the truth, for those readers looking for the re-imagining of the famous turbulent later years of her life, read this book. After you do, you will feel like you don't need to read about her later life, because you already know the woman who was Eleanor of Aquitaine so well.
I am amazed that O'Brien was able to craft such a page-turning plot line from such a dark, hazy period in history. Her historical research is impeccable, and it shows. O'Brien utilizes her research in such a way that makes the "fiction" part of the genre of historical fiction completely and utterly believable, which is the aim of any good historical fiction author.
The characters of the novel are all very well crafted and all have something to contribute to the story. The character of Louis VI was very well done as well. His insurmountable devotion to the Church is maddening, but at the same time, you feel such sorrow and pity, for both him and Eleanor.
Eleanor's fight against the political and societal limitations surrounding her show beautiful depth into her strong character. Page after page comes defeat for Eleanor, yet still she stays strong. It is truly amazing that someone with such a fire in her spirit survived such a dark period in history.
All in all, this novel was really outstanding. The plot was turbulent and exciting, the historical research phenomenal, and Eleanor was one of the best historical re-imaginings I have ever read. For those who are skeptical about this novel because of its less-than-interesting historical setting, believe me, you will not regret reading this novel. I certainly didn't.
MY RATING
4.5****/*
Book #3 in Historical Fiction Reading Challenge