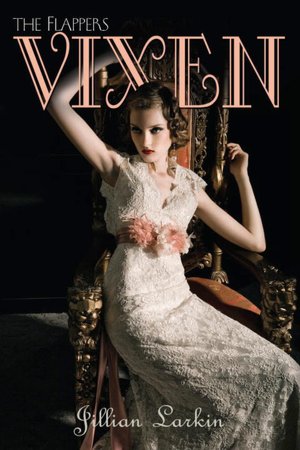 GENRE
YA Historical Fiction (421 pgs.)
SYNOPSIS
Every girl wants what she can't have. Seventeen-year-old Gloria Carmody wants the flapper lifestyle--and the bobbed hair, cigarettes, and music-filled nights that go with it. Now that she's engaged to Sebastian Grey, scion of one of Chicago's most powerful families, Gloria's party days are over before they've even begun...or are they?
Clara Knowles, Gloria's goody-two-shoes cousin, had arrived to make sure the high-society wedding comes off without a hitch--but Clara isn't as lily-white as she appears. Seems she has some dirty little secrets of her own that she'll do anything to keep hidden.
Lorraine Dyer, Gloria's social-climbing best friend, is tired of living in Gloria's shadow. When Lorraine's envy spills over into desperate spite, no one is safe. And someone's going to be very sorry...
Vixen is the first novel in the sexy, dangerous, and ridiculously romantic new series set in the Roaring Twenties... when anything goes.
MY REVIEW
Something just gets to me about the Roaring 20's. Maybe it's the fast-living society, fresh from a gruesome world war, on the cusp of one of the biggest financial collapses in world history. Maybe it's the absolute discord stemming from the old money and the noveau riche, the prohibitionists and the flappers, the old society and the social climbers. Or maybe it's the booze, jazz, and fashion? As I traversed through Vixen, I realized the answer was all of the above. It was all of these discordant things rolled into one bundle that makes the 1920's so special.
Believe me, this novel covers every aspect of the 1920's. The jazz, flappers, social-climbers, fast living, etc. It's all here, and presented in a very appealing package.
Jillian Larkin's characters are all magnificently written in their own right. The story centers around three girls (Gloria, Clara, and Lorraine) who all have something unique to offer to the story. I think readers will find bits and pieces of themselves mixed up in all three of the girls, which makes their unfolding stories really enjoyable.
The plot is extremely well written. Sometimes I can kind of figure out what is going to go down at the end of the book, but I was completely stumped (and very much surprised) regarding the ending. Definitely a page-turner, to be sure. During its serious moments, the plot is that: serious. It's serious without being heroically campy or cheesy. Almost more of an adult serious, which I very much enjoyed.
Jillian Larkin recreated the 1920's beautifully, from the high-society soirees to the underground speakeasies. I think she did a fantastic job in contrasting her settings, again playing up the discord that is so familiar of the 1920's. There is really great beauty and passion in her writing, as well as A+ historical accuracy. Jillian Larkin did her research!
And one of the things I most enjoyed about this novel was that I could not tell, for one second, that this book is part of a planned series. Hallelujah! This book absolutely stood on its own two feet, without having readers suspend their disbelief until part two. I felt that Jillian Larkin did an excellent job of delving into the story, as she should for any normal novel. I was extremely impressed with the pacing, detail, and plot.
All in all, this is a fantastic read. Readers, do yourself a favor and skip Anna Godbersden's "Bright Young Things" series... it pales in comparison to this masterpiece. You will not be able to put this delicious romp through the 1920's down!
MY RATING
4.5****/*
Book #4 in Historical Fiction Reading Challenge