I am happy to report the findings today of two new novels to add to my library. I can't wait to dive into these two... I bow down to both of these authors. They have been on my wishlist for so long! Here's a sneak peak...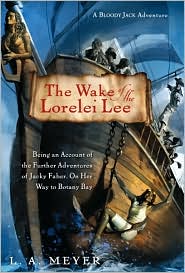 The Wake of the Lorelei Lee: Being an Account of the Further Adventures of Jacky Faber, on Her Way to Botany Bay
by L.A. Meyer (Y.A. Historical Fiction)
Jacky Faber, rich from her exploits diving for Spanish gold, has purchased the Lorelei Lee to carry passengers across the Atlantic. Believing she has been absolved of past sins against the Crown, Jacky docks in London to take on her crew, but is instead arrested and sentenced to life in the newly formed penal colony in Australia.
To add insult to injury, the Lorelei Lee is confiscated to carry Jacky and more than 200 female convicts to populate New South Wales. Not one to give in to self pity, Jacky rallies her sisters to "better" their position--resulting in wild escapades, brushes with danger, and much hilarity. Will Jacky find herself a founding mother of New South Wales, Australia? Not if she has anything to do about it!
Cate of the Lost Colony
by Lisa Klein
Lady Catherine is one of Queen Elizabeth's favorite court maidens—until her forbidden romance with Sir Walter Ralegh is discovered. In a bitter twist of irony, the jealous queen banishes Cate to Ralegh's colony of Roanoke, in the New World. Ralegh pledges to come for Cate, but as the months stretch out, Cate begins to doubt his promise and his love. Instead it is Manteo, a Croatoan Indian, whom the colonists—and Cate—increasingly turn to. Yet just as Cate's longings for England and Ralegh fade and she discovers a new love in Manteo, Ralegh will finally set sail for the New World.
Seamlessly weaving together fact with fiction, Lisa Klein's newest historical drama is an engrossing tale of adventure and forbidden love—kindled by one of the most famous mysteries in American history: the fate of the settlers at Roanoke, who disappeared without a trace forty years before the Pilgrims would set foot in Plymouth.