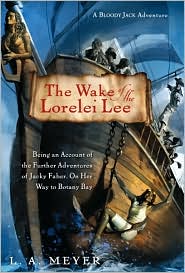 GENRE
Y.A. Historical Fiction (552 pgs.)
SYNOPSIS
Jacky Faber's longtime dream has come true: she is the owner of the
Lorelei Lee,
a large brigantine that can carry passengers across the Atlantic in legal trade. The owner of Faber Shipping Worldwide, she is newly rich from her exploits diving for Spanish gold and absolved of past sins against the Crown. Yet when she docks in London to take on her crew, she discovers that her enemies Flashby and Bliffil have spread lies about her--and she is immediately arrested and sentenced to life in the newly formed penal colony in Australia.
Adding insult to injury, the
Lorelei Lee
has been commandeered to carry 250 female convicts (including several of the founding mothers of Australia--and the occupants of more than one brothel) to populate New South Wales. Never one to wallow in a bad situation, Jacky rallies her convict sisters to make the best of their position. That they do, for a voyage filled with wild escapades and brushes with danger.
As the
Lorelei Lee
journeys to New South Wales, Jacky meets up with friends and foes from her past, is captured by the fanes female Chinese pirate Cheng Shih, reclaims her beloved
Lorelei Lee--
and eventually sails into Jaimy's arms. Well, maybe.
MY REVIEW
To start things off, I have to say that this is
the
best YA historical fiction series I have ever read. L.A. Meyer is a fantastic author, and I have a tremendous ammount of respect for him.
And by the by, if you are new to the series, please start with Book 1 (Bloody Jack)!! If you start with this book, you will be completely and utterly lost. These characters have been developing over the course of a now 8-book series.
Good ol' Jacky Faber, you have been like a best friend to me, truly. Her character is by far the best written female heroine. Sure, she's a bit rough around the edges (hey, she used to be a street urchin for crying out loud), but she truly sparkles. She has such a sense of humor, and an unquenchable thirst for danger and adventure. She is not afraid to tell it like it is, and when she wants something, she goes to get it, whatever the cost. So thank you, L.A. Meyer, for inventing the most dynamic character and sharing her story with me. I really am thankful that you did.
Speaking of characters, L.A. Meyer is the man who knows how to write them. Every single character is special in their own right, every character has some part to play in the story, and I love that. It draws me into the story all the more. And believe me, there are so many characters in this book you'll be able to sympathize with someone!
This book was so refreshing! Jacky is finally back to her old adventures. I think Mr. Meyer kind of strayed from that in books 6 & 7, and now he's back on the high road. It's a classic pirate's tale, and Jacky always finds a way to weasel herself out of danger.
Don't even get me started on the historical accuracy. It's impeccable. Mr. Meyer being a veteran of the U.S. navy helps out so much, because when it comes to sailing and the ocean, he knows what he's talking about. Especially in this installment, with the history of Austrailia and such. So much detail about history goes into each one of his books, and I truly thank him for that as well. He does his research, and it's quite obvious!
This book is jam packed with action and adventure! I could hardly put this book down; it just kept going and going! It's a true pirate's story. Jacky's journey never ends, and I think that's one of the beauties of this book. Jacky's journey will just keep going on and on forever. I know that sounds a bit cheesy, but I believe it.
I would reccomend this series to anyone without a second's hesitation. It is truly the best series I've ever read (have I stressed that enough?), and this installment goes back to the pirate roots of Jacky Faber that I know and love. And, to my great excitement, there's still more books to come!
MY RATING
5*****