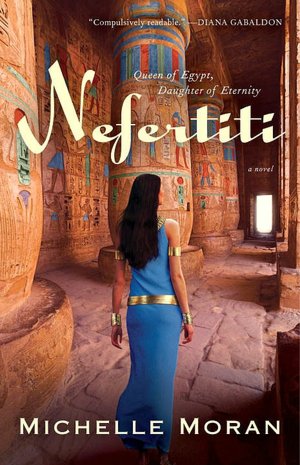 GENRE
Adult Historical Fiction (457 pgs.)
SYNOPSIS
Nefertiti and her younger sister, Mutnodjmet, have been raised in a powerful family that has provided wives to the rulers of Egypt for centuries. Ambitious, charismatic, and beautiful, Nefertiti is destined to marry Amunhotep, an unstable young pharaoh. It is hoped that her strong personality will temper the young ruler's heretical desire to forsake Egypt's ancient gods.
From the moment of her arrival in Thebes, Nefertiti is beloved by the people, but she fails to see that powerful forces are plotting against her husband's reign. The only person brave enough to warn the queen is her younger sister, yet remaining loyal to Nefertiti will force Mutnodjmet into a dangerous political game--one that could cost her everything she holds dear.
MY REVIEW
After reading Cleopatra's Daughter by Michelle Moran, and being thoroughly impressed, I couldn't resist this next read. Ancient Egypt has held my absolute adoration since I was a young child, so any historical fiction on the subject I am instantly drawn to.
With this second book of Michelle Moran's, she has rightfully earned a place in my favorite historical fiction author list. Her writing is absolutely fantastic. She is outstanding at balancing the emotion of a good fiction while keeping intricate historical research in play. Let me tell you, for the duration of this novel, I lived and breathed Ancient Egypt. It is so easy to slip into the history the way Michelle Moran writes it!
I will say that at first I was a bit put off by the fact that this novel is actually narrated by Nefertiti's sister, Mutnodjmet, rather than Nefertiti herself. But in the end, I thought this choice in narrator made the story all the more potent. It was really a testament to the kind of power Nefertiti held as Queen of Egypt, and how that power affected her family. Mutnodjmet was a completely reliable narrator, which I think Nefertiti wouldn't have been, just given her character.
Speaking of the characters, they were all very well written. Wow, was Nefertiti absolutely ruthless! I think sometimes it's very hard for authors not to take more of a modern stance on re-interpreting some of these historical figures. I don't know how Michelle Moran does it. She makes each character so touching to the reader, but still retains their historical characteristics.
The plot was gripping and never dull. Since many events in Ancient Egypt are really open to historical interpretation, I think some authors make their plot a little too grandiose and unbelievable. But Michelle Moran connected the dots, so to speak, in a way that is completely believable.
This was an excellent read. I really did have a hard time putting this one down. Every aspect was engrossing, from the characters to the plot. The world of Ancient Egypt Michelle Moran created was absolutely stunning. This, my friends, really is historical fiction at its best.
MY RATING
5*****