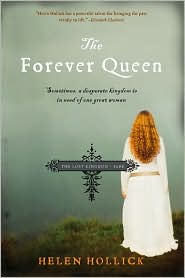 GENRE
Historical Fiction (616 pgs.)
SYNOPSIS
Saxon England, 1002. Not only is Æthelred a failure as King, but his young bride, Emma of Normandy, soon discovers he is even worse as a husband. When the Danish Vikings, led by Swein Forkbeard and his son, Cnut, cause a maelstrom of chaos, Emma, as Queen, must take control if the Kingdom--and her crown--are to be salvaged. Smarter than history remembers, and stronger than the foreign invaders who threaten England's shores, Emma risks everything on a gamble that could either fulfill her ambitions and dreams or destroy her completely.
MY REVIEW
As a huge fan of Hellen Hollick, I couldn't wait to dive into this read. And once again, Hellen Hollick hit this one out of the park.
There is something unique about Ms. Hollick's writing... her prose, characters, style, take your pick... that always succeeds in transporting you to the historical period she is writing about. You are there, dancing through the pages of history. You feel as if you had even lived there, in some past life or someting. This factor alone just strikes me as unique to only Helen Hollick; I don't know how she does it, but she does.
In a literary world where we are seeing increasingly more and more female protagonists, it is refreshing to meet a heroine that isn't your typical "run-of-the-mill" character. Emma of Normandy is fierce, strong, but is definitely not without her faults. At one point in the story, she basically dumps her children from her first marriage in a foreign country, and does not contact them until she needs their help in keeping her crown. Heartless, yes, but human? Absolutely.
Helen Hollick's characters in general are diverse, and always rememberable, which minor characters usually are not. Each one of her characters has their own soul, their own conscience, and their own mind. I always enjoy how Helen Hollick weaves each character into her story, as each person is, in some way, integral to the plot.
Another thing I very much appreciate is the ammount of effort and research Helen Hollick puts into each of her books. It is very much evident as you read. It's never boring or lengthy, like opening and reading a history textbook. It has character. She always intricately weaves history with fiction.
All in all, this was an excellent read. Helen Hollick is by far the master of historical fiction. Even though this book is a bit lengthy (616 pgs!), you won't be able to put it down. Once again, Helen Hollick has created a new, exciting, historically-accurate world for you to step into... and you won't be sorry you did.
MY RATING
4.5****/*
Appropriateness Factors
Being adult fiction, there are a couple of bedroom scenes, but nothing explicit. Take it for what it's worth.
Book #1 in Historical Fiction Reading Challenge