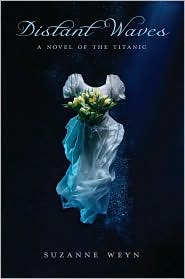 GENRE
Y.A. Historical Fiction (319 pgs.)
SYNOPSIS
Daughters of a famed clairvoyant, the five Taylor sisters begin the twentieth century desperately searching for a home. Their mother takes them to the small town of Spirit Vale, where she makes a living of talking to the dead. The future, however, is something even she cannot clearly see.
The Taylor sisters are not destined to stay in Spirit Vale for long. Mimi's fate is mingled with that of rich society, and threatened by a secret surrounding her birth. Jane becomes involved in a feat of scientific intrigue that has the potential to alter the course of history--and the course of her greatest love. The twins, Emma and Amelie, appear ready to follow in their mother's footsteps. And the youngest, Blythe, will stop at nothing to make her dreams of wealth and fame come true.
All of the sisters' destinies converge on board the Titanic. A transatlantic voyage that promises great wonders--including a surprise wedding--soon turns into a fight for survival. Not everyone will make it through... for neither love nor sisterhood can escape the threat of death.
Or can they?
MY REVIEW
"Ah, so it's about the Titanic," I thought when first picking up this book. And let me tell you, that one little 7-letter word carries a LOT of weight and expectations for a story.
First of all, I gotta give this book props on its originality. Definitley complete polar opposite from what I've read and seen about the Titanic. Don't start reading this book thinking it will be just like the movie... it's completely different in its own right, and I think that was refreshing.
I LOVED the historical accuracy in this book! A lot of the time, historical fiction authors like to drop people's names like they're nothing, but not so here!! Ms. Weyn is even researched enough to write a 10-page author's note at the end that is called "What's Real In Distant Waves?" that details everything historical about the book. I absolutely love it when authors include stuff like that... it just makes the story all the more believeable.
I also loved our heroine Jane, because her character was so down-to-earth. She has real embarassments, real emotional challenges that I can relate to, even though I'm living in a different century. I really loved how Ms. Weyn wrote her.
As I said before, I liked the fact that this book had originality, but I didn't like how it came to play out in the book. For one thing, it made the ending super anti-climatic. Let's just say it involves a time machine, and the main characters end up bypassing the actual sinking of the Titanic, which was super dissapointing. I mean, come on... you're going to write about the Titanic but have your characters magically time travel to after the sinking?
Another part of the originality thing was the spirit world element. Basically, the five sisters' lives revolve around their mother, who is a psychic, and that world of spiritualism. I wasn't able to really connect with the book here; it never really spoke to me. It was just a little far out there for me, especially for this "prim and proper" time period.
I also think that having the story time divided up between five sisters was a little overkill. I think Ms. Weyn would have been much better off if she would have stuck with maybe only two sisters, like Jane and Mimi. I don't know... maybe Jane Austen is the only one who can pull off a good five-sister story. :)
Anyway, this book was just so-so in the end. Definitley not really anything special. I wished it could have been a little... more. Cool for the originality factor, but it ended up being too much and, in my opinion, hurting the book in the end.
MY RATING
3***