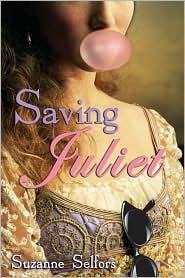 GENRE
Y.A. Fiction / Historical Fiction (241 pgs.)
SYNOPSIS
Mimi Wallingford, of the famous Wallingford actors, wishes to be anywhere but onstage for the final performance of Romeo and Juliet. Acting isn't for her, even if her family's future relies on it. Being transported to Shakepseare's Verona wasn't what she had in mind either, but when the magical ashes clear, she's suddenly not in Manhattan anymore--and her heartthrob costar Troy Summer, is along for the ride.
After Mimi befriends the real Juliet Capulet, she just can't allow the play to reach the tragic end that she and Troy have acted out countless times before. But if saving Juliet means changing the greatest love story of all time, will Mimi and Troy ever make it back to Broadway?
MY REVIEW
First off, let me say that I enjoy Shakespeare immensly, if only I could come to understand his darn writing! For all you young adults out there that are new timers to Shakespeare and don't speak and understand fluent Old English, this novel is perfect for you.
The story is very exciting and fun. I really like this particular time-traveling novel because when our two modern main characters are first transported, they have to work their way into the houses of Capulet and Montague. It's refreshing to find this change, because I find that with a lot of other time-travelling novels, the characters appear and POOF, they fit right in with the customs and people. Not so in this story!
I can really connect with our protagonist, Mimi. She is extremely prone to panic attacks (I've had my fair share) and nervous breakdowns on stage because she is just so terrified of acting. On this level I could really connect with her, and it made me really sympathize with her. I felt her pain!
The characters are oh so important in this novel! I'm mean, come on, their world famous. And Suzanne Selfors does an excellent job of make them modern, living and breathing people that the audience can understand. From the lovely Juliet, to her evil mother Lady Capulet, to the handsome and ruthless Benvolio, Selfors nails the characters!
I loved the spin Ms. Selfors put on the ending! I wish that was the way that Shakespeare would have wrote it. Mr. Shakespeare, I demand a rewrite! Your story is just too tragic.
Susanne Selfors also does a wonderful job of recreating the city of Verona, and is beautiful with her details. You can really feel it, breathe it; it's almost like you're there, trucking along right beside the characters.
This book was such a fun romp! Laughs, adventure, romance... it's all here! A really entertaining read, with a great ending. A wonderful spin on a treasured story.
MY RATING
4.5****/*