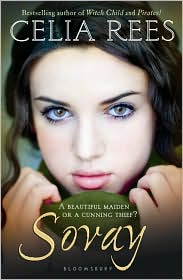 GENRE
Y.A. Historical Fiction (404 pgs.)
SYNOPSIS
For priveleged young maidens in the year 1794, adventure seems limited to primping, preening and sitting for portraits. But the beautiful Sovay is drawn to more thrilling pastimes - namely, donning a man's cloak and holding up stagecoaches in broad daylight. Posing as a highway robber began as a lark to test a suitor's devotion. But when Sovay lifts the wallet of one of England's most dangerous men, the stakes become critical: she discovers that her father, who is mysteriously missing, has been accused of treason.
Soon robbery is the least of Sovay's perils. On a mission to clear her family's good name, she becomes entangled in a web of deceit and duplicity. London's underground net of spies and informers hold tremendous power - and it is closing in quickly on Sovay.
MY REVIEW
In this exciting tale of intrigue and adventure, one girl defies all to save the ones she loves. Sovay, our fiesty heroine, will stop at nothing to bring justice to her family. Her motto: "I can take care of myself" (pg. 216).
Being a history buff for one, I thoroughly enjoyed the detail and period-corectness Ms. Rees puts into her novels. From the period dress, to inventions and architecture, it's all there, and I always appreciate when an author takes the time to make sure his/her novel is historically accurate. You can always get the "feel" of actually being there better that way... almost like the book is your window to the past.
I absolutely adore the prose in this book! Straight out of the 18th century, as it should be!! Kudos to Ms. Rees for making the extra effort of historical accurateness in one of the most important parts of the book: the dialogue! All the little details count in this book.
Once again, Celia Rees has created a marvelous, iron-willed heroine whom I can't help but falling in love with! Her spirit and character are truly amazing. Sovay is the kinda gal I'd want to be good friends with, and you get that close feeling throughout the novel.
If you love a good pirate story (which I think Celia Rees is also the master of), you will certainly love this tale! The notorious highwaymen (or highwaywomen, in this case) closely mimic pirates in all of their devious deeds. I truly love the romantic adventure of a good pirate story (and I love pirates in general, for that matter...), and you will definitley find that here!
I absolutely adore the character of Captain Greenwood... highwayman/pirate, handsome, and a good heart to boot... what's not to love? It's a thrill to be around him!
This book really sweeps the reader up into the spirit of adventure, and I always enjoy that. Celia Rees, one of my favorite authors, has written another successful and adventurous fete again. You won't want to put this one down!
MY RATING
4.5****/*