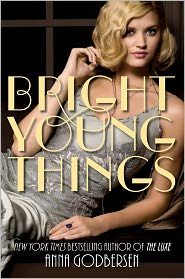 GENRE
Y.A. Historical Fiction (389 pgs.)
SYNOPSIS
The year is 1929. New York is ruled by the Bright Young Things: flappers and socialites seeking thrills and chasing dreams in the anything-goes era of the Roaring Twenties.
Letty Larkspur and Cordelia Grey escaped their small Midwestern town for New York's glittering metropolis. All Letty wants is to see her name in lights, but she quickly discovers Manhattan is filled with pretty girls who will do anything to be a star…
Cordelia is searching for the father she's never known, a man as infamous for his wild parties as he is for his shadowy schemes. Overnight, she enters a world more thrilling and glamorous than she ever could have imagined—and more dangerous. It's a life anyone would kill for . . . and someone will.


The only person Cordelia can trust is Astrid Donal, a flapper who seems to have it all: money, looks, and the love of Cordelia's brother, Charlie. But Astrid's perfect veneer hides a score of family secrets.


Across the vast lawns of Long Island, in the illicit speakeasies of Manhattan, and on the blindingly lit stages of Broadway, the three girls' fortunes will rise and fall—together and apart.
MY REVIEW
This novel was an instant buy, and had been on my wishlist for quite some time, for 2 reasons. 1, I absolutely loved Anna Godbersen's last series, The Luxe. 2, This novel is set in the Roaring 20's, which is one of my favorite modern decades.
For those two reasons alone, I really, really, really wanted to like this novel. But unfortunately for me, it fell a bit flat.
Let's start with the characters. They were all really well-written and engaging, but in the end, I just found myself really not caring about them. Sure, I liked them, but I just didn't care a lick about them. They didn't possess qualities that I could personally relate to, and therefore, I felt quite disengaged from them.
But the worst part of this novel was the plot. It was pretty bad. But before I delve into that too much, I'd like to clarify an opinion I have.
This novel was obviously written for a series. You can actually go out and buy book #2 right now. In my opinion, when writers write a novel with a sequel/series in mind, their story really suffers. This was definitely the case with Bright Young Things. I felt like this book was a giant prologue for the series. Really. Not exciting, not engaging. Whatsoever.
Moving on from that, I definitely felt I had to read this novel whilst "suspending my belief," if you will. Anna Godbersen definitely got the polish and glamour of New York in the Jazz Age right, but where was the grit? Where was the strife? Fast living isn't all smiles and happiness. Granted, Anna Godbersen wrote in some "down" moments, but it hardly affected the characters or the plot.
Not only that, but the whole bit about Cordelia's long-lost father being one of New York's wealthiest bootleggers was just outrageous. How she meets him was really outrageous too. She manages to sneak past his armed guards, run right into the guy and he accepts her as his daughter, no questions asked. Come on, what kind of fairytale are these people living in? Like I said, lots of smiles, but hardly any grit.
I will say that I do like Anna Godebrsen's writing, however. She comes up with the coolest metaphors, so I have to give her her props for that.
All in all, this was a pretty big letdown for me. Definitely far below my expectations, which were pretty high coming off of Anna's last series. So if you want to see Anna Godbersen at her finest, please read The Luxe series. It is absolutely fantastic.
MY RATING
2.5**/*