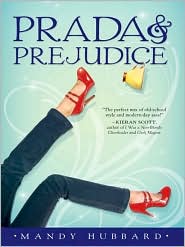 GENRE
YA Historical Fiction / General Fiction (238 pgs.)
SYNOPSIS
To impress the popular girls on a high school trip to London, klutzy Callie buys real Prada heels. But trying them on, she trips...conks her head...and wakes up in the year 1815!
There Callie meets Emily, who takes her in, mistaking her for a long-lost friend. As she spends time with Emily's family, Callie warms to them - particularly to Emily's cousin Alex, a hottie and a duke, if a tad arrogant.
But can Callie save Emily from a dire engagement, and win Alex's heart, before her time in the past is up?
MY REVIEW
I was a little hesitant when picking up this novel. I didn't exactly know how far I was willing to stray from Jane Austen. I guess it was the "purist" in me that wasn't immediately drawn to this book.
But I have to say, it was really very charming! It was well (if simply) written, the characters were likable, and the story was well done.
I wouldn't count on too much Jane Austen influence here, though. The "Prejudice" side of the title really refers to the time period, the Regency, rather than the story. The main similarities were that Callie's love interest, Alex, was of course the Mr. Darcy of her world, and that Callie reminded me a bit of Emma with her matchmaker (or in her case, breaker) qualities.
That being said, it was still a very enjoyable story. Callie was definitely likable and relatable as the girl who just wants to fit in with the "it" crowd and save herself from embarrassment. She has a very human teenage girl quality that I think young readers will very much enjoy.
I also have to commend Mandy Hubbard for her outstanding character development. You can really see at the end of the novel how far Callie has come from that shy, people-pleasing girl to being so much more sure of herself. I think maybe we could all learn a thing or two if we time-traveled back to Regency England!
The plot was well done, with a big twist at the end that stayed true to the Pride & Prejudice story (Mr. Darcy's side of the story, anyway). It was never boring or dull, and Callie's vivaciousness really kept the story moving.
All in all, this was a great, quick read that was very well done. I think it is a great read for those younger readers who are just being introduced into the world of Jane Austen.
MY RATING
4****