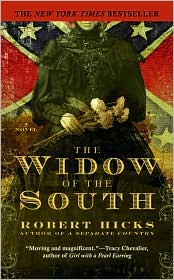 GENRE
Historical Fiction (418 pgs.)
SYNOPSIS
Based on an extraordinary true story, this brilliant, meticulously researched novel flashed back to 1864 and the afternoon of the Battle of Franklin, five of the bloodiest hours of the Civil War. While the fierce fighting rages on Carrie McGavock's land, her plantation turns into a Confederate army hospital; four generals lie dead on her back porch; the pile of amputated limbs rises as tall as the smoke house. But when a wounded soldier named Zachariah Cashwell arrives at her house, he awakens feelings she had thought long dead--and inspires a passion as powerful and unforgettable as the war that consumes a nation.
MY REVIEW
I admit I started reading this book with an equation in mind: death, love, passion, all plainly spelled out and all totally expected. But this novel was definitely a refreshing change from the "typical" sweeping, epic historical fictions about the Civil War.
Firstly, this novel is an absolute masterpiece of storytelling. I really can't stress that enough. I lost more than a few hours of sleep due to not being able to set this book down. This story truly moves the reader, in every sense of the word. For those of my readers who are American, you will look at the Civil War differently after reading this novel. It was so much more than an absolute bloodbath. It wasn't as simple as 600,000 men dying, albeit seems simple enough.
I very much appreciated the fact that the actual, historical Civil War took more of a backseat in this novel, and that Robert Hicks focused more on the after-effects of the war that literally changed the fabric of America. Not just the changes in population count, but the changes in how people thought and lived.
I really enjoyed how Robert Hicks composed his novel. Each chapter was usually narrated by a different person, and all of the character's stories were somehow intertwined with one another. It really brought the novel to life, looking through the eyes of so many different people on all sides of the war. It was easy to see how Carrie's plight really became the defining soul of the Civil War.
Robert Hick's writing is exquisite, albeit plain. But his words really need no flowering. His characters are true and strong in their own ways. His story needs no help from overly-padded descriptions. It will move you all the same.
Don't start this novel expecting a meticulous history: the history was there, but the story was what counted. Carrie's story is what counted, and what will count for generations to come. This novel was breathtaking, heart wrenching, and enthralling all at the same time. I am quite serious when I say this is one of the best books I have ever read.
MY RATING
5*****